TOPEC® modular slab formwork from Hünnebeck makes the shuttering and stripping of slabs much faster and demonstrably more economical than conventional slab formwork systems.
Videos & photos
More about the fast TOPEC® modular slab formwork in this video.
Safe assembly and dismantling from the ground for heights up to 3.50 m in three easy steps: Simply hook in - push up - brace.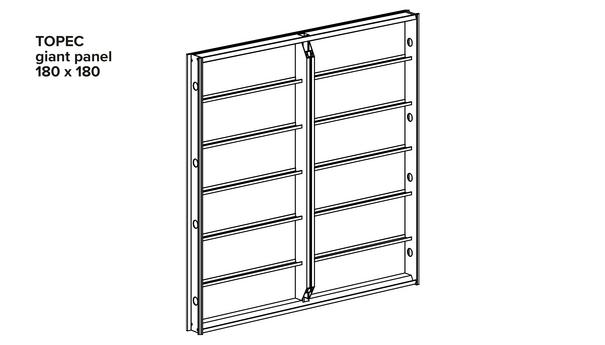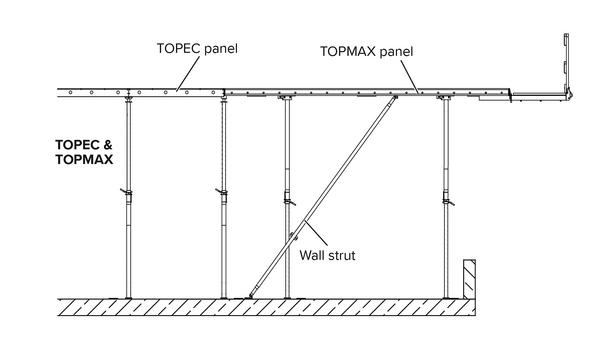 Work productively
Only two components required: panel and prop
Outstanding concreting results with ECOPLY plastic form sheet; easy cleaning and minimal wear, equipped with counter-sunk head rivets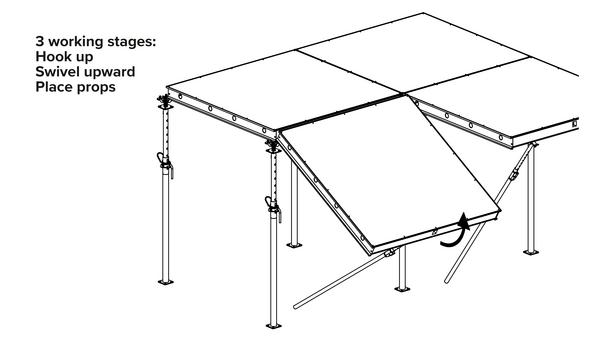 Work safely
Sturdy, lightweight aluminium components are easy to handle, reducing fatigue
Construct edge protection using system components
Application & use
Download the user guide here. Click on the name of a chapter to access it directly.
Technical data
Panel widths

45 | 60 | 75 | 90 | 180 cm

Panel lengths

90 | 180 cm

Adjustment panel

Panel 55 – 90 x 90 cm




Panel 55 – 90 x 180 cm

Profile thickness

14 cm aluminum frame profile

Form sheet

ECOPLY® plastic form sheet | Plywood (340 g/m²)

Form sheet thickness

11 mm ECOPLY® plastic form sheet | 10 mm plywood

Weight/m²

16kg/m²

Relevant standards

Complies with DIN 18202

Maximum slab thickness

75 cm (with 60 cm wide panels)

Corrosion protection

Powder-coating

Standard shoring

EUROPLUSnew props 20 kN | 30 kN

Special shoring

MODEX scaffolding

Supports

TOPEC bearing | Edge support N | Drop Head

Assembly/stripping times

t = 0.20 – 0.40 hours/m²

Special features

Adjustment panels (fully telescopic)
ECOPLY® plastic form sheet
Also available with TOPEC Drop Head for early stripping
EUROPLUSnew with quick-lowering mechanism
TOPEC lift hydraulically positions the panels precisely and flush
Question not answered yet? We are here to help!